If you've ever been in need of a quality litigation attorney, you know that the process of finding one can be cumbersome and overwhelming. You might wonder how you can possibly know which attorney will ensure the best outcome for your case. A highly qualified litigation lawyer will embody many important characteristics, and in today's blog, we'll highlight a few of the most important ones.
At Edenfield, Cox, Bruce, Edenfield, & Colson, our team of attorneys has more than 100 years of combined legal experience, and we specialize in providing Savannah residents with reliable business dispute litigation services. If you're in need of a legal consultation, contact our office today. We'd love to help you!
Important Factors to Consider
When you require the assistance of a litigation lawyer, there is an overwhelming amount of options to choose from. How do you know which attorney is best suited for your case? The right attorney will exhibit several key qualities, including those that we have listed below.
Compassion
Regardless of whether you need an attorney for a unique business litigation matter or a sensitive personal injury claim, it is essential that he or she demonstrate compassion when interacting with you. If the attorney doesn't demonstrate this important quality, it may raise a red flag that he or she is more concerned with the potential profit in the case versus its outcome.
Experience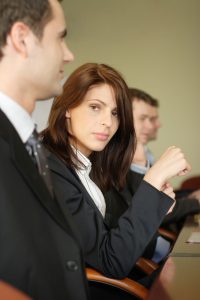 Although there are many new attorneys in the world who are likely well-qualified to take on your litigation case, there is no substitute for the expertise that years of experience cultivate in a legal professional. Not only should one have several years of trial experience under his or her belt, his or her past work should closely align with your litigation needs.
Availability
The process of preparing a case for trial and defending it in front of a jury requires a lot of painstaking work. When you have an attorney representing you for trial, it is essential that he or she is available to answer any questions and review any information you have to provide, especially during the important discovery phase of the legal preparation work.
Specialty Practice Areas
Finally, there are plenty of great full-service law firms out there that are well-qualified to handle a variety of legal matters. However, when it comes to preparing a case for trial and aggressively defending it in court, you will benefit from an attorney who specializes in the specific practice area for which you need legal counsel.
Savannah's Premier Litigation Attorney
If you're in need of a well-qualified litigation attorney in the Savannah area, contact the attorneys at Edenfield, Cox, Bruce, Edenfield & Colson today. We have the experience and availability you deserve for your litigation matter, and we specialize in a wide variety of litigation services. Our attorneys will provide reliable and compassionate representation to ensure the best possible outcome for your case. Call 912-764-8600 today to get started!